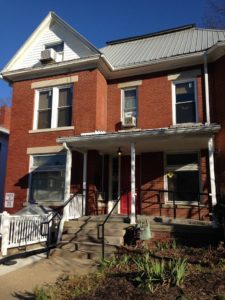 The red brick house at 18 N. College St. has been the home to dynamic campus ministry at Ohio University since it was donated to the Westminster Foundation in 1951.

It's within these walls that courageous and dedicated clergy, staff, community activists and students have fomented resistance to oppressive forces, agitation for social justice and solutions to community problems for almost 65 years. Here we have counseled Vietnam draft resisters, women with unplanned pregnancies prior to Roe v. Wade, organized for equality and justice for women, people of color, lesbian, gay, bisexual and transgender students and community members, and resisted war and violence of any kind. Here we have sown the seeds for area organizations like My Sister's Place, Athens AIDS Task Force and the Southeast Ohio Foodbank. For our students, UCM has been their home in Athens – a place to come to feel supported and encouraged to live out their faith; to question and grow and know they're supported and loved along the way; to flop down on the couch for a quick nap or grab coffee in the basement with another intern.
This house has taken good care of us and we must take care of it. In the past 2 years alone, we have invested nearly $60,000 in building repairs and updates including a new roof, gutters and drain spouts; repairs to ramp and handrails; extensive work to address drainage problems in the basement; and removal of moldy paneling and plaster walls. If that wasn't enough, we had an unexpected main waterline break this past February deep freeze that required expensive repairs.
Since most of these projects required immediate attention, grant funding was usually not an option (other than the front basement door and railings – thanks Athens Foundation!) So we have had to dig deep into our pockets to ensure that this old house is safe and sound for all who call it home. If you love our old house like we do, and would like to help us offset some of these expenses, please consider a donation today! You can set up PayPal to be an ongoing sustaining donation or make a one time donation on our website or check.
Help us ensure that 18 N. College Street is home for interfaith, progressive campus ministry for years to come! Thank you.