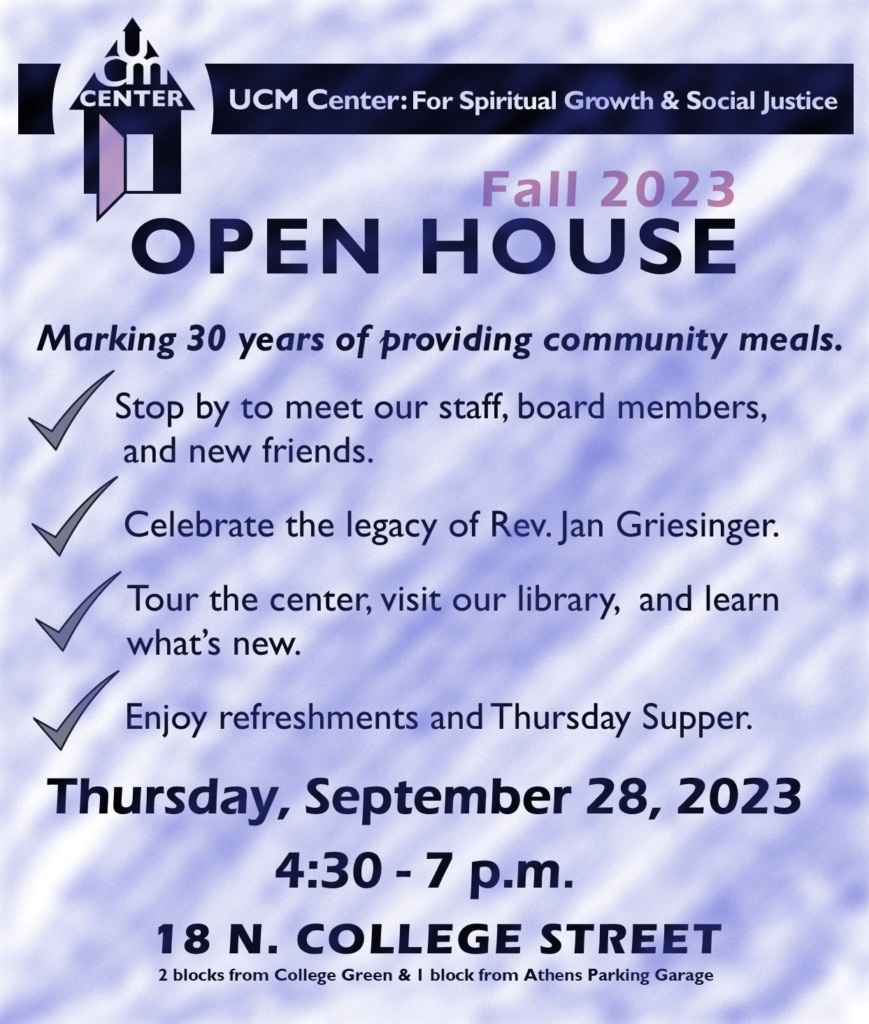 Free Community Meals:
Thursday Supper & Wednesday Lunch
UCM Center continues to provide meals to the community nearly every Thursday evening from 5:00 p.m. – 6:30 p.m. and Wednesday afternoons from Noon – 1:30 p.m. Our free community meals have been served with no questions asked and without requirements of participants since 1993. We remain dedicated to serving the freshest and most nutritious meals possible. At this time meals are served as dine-in, however meals can be packaged for carryout. Masks are encouraged. Masks and hand sanitizer are available at the entrance.
We rely on volunteers to prepare and serve meals. Click the day and time to sign up to help out on Thursdays from 3:00 p.m. – 7:00 p.m. (redirects to GivePulse) and Wednesdays from 10:00 a.m. – 2:00 p.m. (redirects to GivePulse) You always welcome to email connect@ucmathens.org to sign up.
UCM Center relies on donations of fresh and non-perishable foods and local discounts to make our meals possible. Contribute to our fresh foods funds via PayPal or GivePulse.
Providing our meals is a true community effort! We appreciate the assistance of our collaborators: Athens Food Rescue, Community Food Initiatives, First Presbyterian Church, First United Methodist Church, OU's Center for Campus & Community Engagement, and Rural Action.
Home Improvement Days
Volunteer to give our home some much needed love and attention. We are seeking to make our center a more welcoming space and we need your help to make it so. Many hands make light work of cleaning, painting, and more. Saturdays from 11 a.m. – 4 p.m. Click on the dates to sign up to help us (redirects to GivePulse) on Saturday, October 14 and/or Saturday, November 4 and/or Saturday, December 2. You always welcome to email connect@ucmathens.org to sign up.